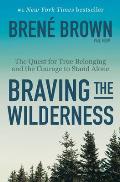 Subtitle: The Quest for True Belonging and the Courage to Stand Alone
Recommended to me by: reading Brene Brown's other books
I liked this book a lot better than I liked Rising Strong. There is less material, but it is more coherent, and it directly addresses crucial tools we need for the current political situation.
There is only one cutesy acronym, which was also in Rising Strong. It repeats as a theme through the book and is even included in the title.
The seven elements of trust:
B – boundaries
R – reliability
A – accountability
V – vault (confidentiality)
I – integrity
N – needs, non-judgmental about needing help
G – generosity, ascribing good intentions
Brene Brown addresses the harm being done as we fracture into more and more homogeneous groups both in person and online. Homogeneity increases isolation, and loneliness is on the rise. Homogeneity also supports acrimony and hating the Other.
She also addresses the longing to belong in her own life. She has always forged her own path. With the exploration and research around this book, she realizes that belonging is an internal quality, not dependent on outside approval. We are beholden to Spirit and our shared humanity, not to the rules of one particular social group.
Her suggestions for finding belonging inside ourselves:
People are hard to hate close up. Move in.
Speak truth to bullshit. Be civil.
Hold hands. With strangers.
Strong back, soft front, wild heart
She includes Dr. Michelle Buck's suggestions for conflict transformation (rather than resolution). Stay in the conversation. Look for underlying intentions. Why is the topic so important to each person. Focus on the present and the future, rather than the past and who said what when. Have the goals to learn more about the other person and find new possibilities. Hold both-and rather than either-or. Listen!
The prerequisites for staying in conversation with someone we disagree with: no threats to physical safety, and no dehumanization. We do not have to tolerate being erased and dehumanized in the name of tolerance.
I disagree with her assertion that face-to-face connection is key, and the internet is only useful to find new people to connect with in person. I agree that in-person connection is lovely, but connection over the internet also has value, especially for people with limited ability to get together in person.
Highly recommended as a thoughtful approach to the unfolding catastrophe of disconnection in modern life.
A worksheet on Brene Brown's website that contains the main points from Braving the Wilderness.