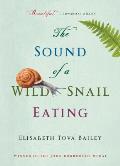 Recommended to me by: my cousin
Bedridden with a severe neurological illness, Elisabeth Tova Bailey finds companionship and entertainment in watching a woodland snail go about its life on her bedstand. The snail is housed first with a potted violet plant, and then in an elaborate terrarium. The book describes the snail's life in carefully observed, lyrical detail. Her illness, circumscribed life, and slow recovery are described along the way, but are not the focus.
Quoted from a letter:
I could never have guessed what would get me through this past year—a woodland snail and its offspring; I honestly don't think I would have made it otherwise. Watching another creature go about its life…somehow gave me, the watcher, purpose too. If life mattered to the snail and the snail mattered to me, it meant something in my life mattered, so I kept on… Snails may seem like tiny, even insignificant things compared to the wars going on around the world or a million other human problems, but they may well outlive our own species.
I enjoyed learning more about snails, and about resilience. Recommended!