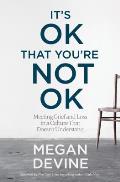 Subtitle: Meeting Grief and Loss in a Culture That Doesn't Understand
Recommended to me by: Robyn Posin
The way our culture deals with grief is vastly broken. We treat it as a problem to be solved rather than as an experience to be carried. We shame grieving people for not doing the process "right" (what does that even mean) rather than listening to and accompanying them. We spout platitudes like, "It's all for the best," to separate ourselves from the reality of loss.
Megan Devine shares about her own catastrophic grief at the accidental death of her husband at age 40, and offers support for others going through grief.
Pain is a healthy, normal response when someone you love is torn from your life. It hurts, but that doesn't make pain wrong.

Suffering comes when we feel dismissed or unsupported in our pain, and when we thrash around inside our pain, questioning our choices, our "normalcy," our actions and reactions.
She advises experimenting to see what helps even a tiny bit in the depths of grief. What lets you feel companioned in your pain. What lessens the suffering. What supports wellness and avoids "worseness." What are your internal signals of overwhelm, and what to do about it.
She addresses how (and why) to stay alive, physical and mental effects of grief, how to manage anxiety, and why to make some kind of art to express your grief. Advice to supporters is: listen. Don't try to fix, minimize, or put the focus on yourself. Listen.
The last section of the book addresses how to handle would-be supporters' missteps, and how to help them be more helpful.
The word trauma is only mentioned once in the book, even though it focuses on traumatic sudden losses. I wonder how much the combination of trauma and grief can be eased with trauma healing techniques.
Highly recommended to anyone who has been knocked down by grief, or had a friend knocked down by grief. (That's just about everyone.)
Megan Devine blogs and runs online Writing Your Grief support groups at her website, Refuge in Grief.