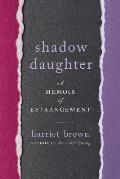 Subtitle: A Memoir of Estrangement
Recommended to me by: Body Impolitic
A powerful, lyrical book about Harriet Brown's complicated relationship with her difficult mother, including estrangement, and about family estrangement in general. She describes her ambivalence and self-blame in the face of anecdotes demonstrating dramatic emotional abuse, as well as the long process of naming her own truth.
The book also covers estrangement in general, both the pressures against it and the reasons for it. She interviews and quotes from other people who have gone through estrangement, and researchers into the topic.
She brings in estranged parent forums with both clarity about their self-deception and defensiveness, and empathy as well. There is a sense of bending over backwards to be fair.
The lower case title and author name on the cover make me sad on Harriet Brown's behalf. I wonder if they were her choice, or a marketer's design.
I am fascinated by the way Harriet Brown continues to put a lot of effort into family relationships, despite the ruptures and judgements stemming from her estrangement with her mother. She skillfully navigates those tricky waters.
I read the book cover to cover in an evening. Highly recommended if you have had to walk away or strongly limit an important family relationship, or if you want to understand that process better.
More stories by Harriet Brown on her website.