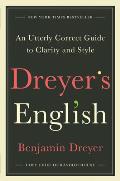 Subtitle: An Utterly Correct Guide to Clarity and Style
Recommended to me by: Jesse-the-K's rave review
This book is both a useful guide to writing well in English, and an entertaining quick read that includes the occasional jab at the current occupant of the White House. Benjamin Dreyer is persnickety and opinionated, as befits the Copy Chief at Random House. He holds forth on grammar rules that can be safely ignored and ones that can't, easily misspelled words, easily misspelled names, and words that tend to be confused with each other.
One can see his process of becoming more educated on social justice issues. There is one inexplicable balk at using work-hours instead of man-hours (seriously?!) but otherwise his language in the book is inclusive of women. He admits that he also balked at using singular they until he had a colleague who uses they pronouns.
Recommended for writers and others interested in the vagaries of the English language.