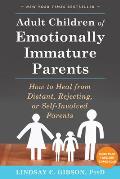 Subtitle: How to Heal from Distant, Rejecting, or Self-Involved Parents
Lindsay Gibson tells it like it is. There is a lot of clear analysis of the ramifications of dealing with emotionally immature parents, without any waffling about, "Maybe the kid is the problem after all." Emotionally immature parents are held responsible for falling down on the job.
"Emotionally immature parents fear genuine emotion and pull back from emotional closeness. They use coping mechanisms that resist reality rather than dealing with it. They don't welcome self-reflection, so they rarely accept blame or apologize."
"Understanding their emotional immaturity frees us from emotional loneliness as we realize their neglect wasn't about us, but about them. When we see why they can't be different, we can finally be free of our frustration with them, as well as our doubts about our own lovability."
"If they don't make a solid emotional connection with their child, the child will have a gaping hole where true security might have been."
Two chapters cover characteristics of emotionally immature people in themselves and as parents. There are some interesting insights here, for example, "They have an inconsistent sense of time," which leads to issues with accountability, responsibility, and planning. At the same time these chapters feel harsh and angry, very much "them" vs. "us." Since we all behave in emotionally immature ways at times no matter how hard we try to be considerate, it makes for uncomfortable reading.
The book later notes that we naturally respond with anger at an attachment figure who is non-responsive or abandoning.
Four types of emotionally immature parents are described: Emotional/anxious, driven/perfectionist, passive/avoidant, rejecting/mean. These types are not revisited in later chapters.
Children of emotionally immature parents create healing fantasies about what will finally let them receive the connection, nurturing, and emotional responsiveness they crave. They also create a role-self which is their best effort to get what they need from difficult parents, rather than living as their true self.
Children of emotionally immature parents tend to be either internalizers or externalizers (locus of control, but without using that phrase). There is some lip service here to people combining both styles and balance being the goal, and at the same time a clear preference for internalizers as being more emotionally mature and capable of growth.
To heal, release self-defeating roles, for example being small and self-effacing in an effort to elicit a caring response. Acknowledge true thoughts, feelings, and opinions, whether or not you choose to share them with parents or others.
As an adult, avoid getting hooked by an emotionally immature parent through detached observation and maturity awareness (estimating people's probable level of emotional maturity). If someone is showing signs of being emotionally immature:
Express boundaries, feelings, etc. and then let it go
Focus on the outcome, not the relationship
Manage the relationship rather than engaging.
Emotionally immature parents may feel safer and respond better to this more distant approach – or not. It is still calmer and emotionally safer for the adult child to alter their expectations to better match the parent's capacity and skills.
The books answers objections people may have to the maturity awareness approach, and then details how it feels to be in relationship with an emotionally mature person.
In this book's example stories, on the positive side, the men and women seem like real people, not gendered stereotypes. In the second half of the book, there is some variety of names that includes different cultures. On the negative side, as far as I could tell, there were no same-sex couples nor trans nor non-binary people.
Lindsay Gibson clearly brings a wealth of thought, research, and experience to this book. There is a lot of great information here, and at the same time it can be uncomfortable to read. Recommended.
The publisher New Harbinger has a download available of all the exercises in the book (pdf) which give you a great summary of the content as well.