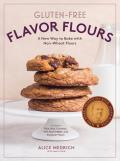 Subtitle: A New Way to Bake with Non-Wheat Flours
Recommended to me by: runpunkrun
A detailed investigation of gluten-free flours, with a chapter for each with a description plus well-suited recipes. It includes rice, oat, corn, chestnut, nut, coconut, teff, buckwheat, and sorghum flours. There's a resource section at the end with places to order ingredients.
About half the recipes have beautifully composed photographs. The recipes look clear and easy to follow (although I haven't tried any yet). Amounts are given in cup measures and grams.
Alice Medrich ran a bakery called Cocolat on Shattuck Ave in Berkeley. A lot of her desserts are far more fussy and elegant than the baking I tend to do. I looked through the book and marked a few simpler recipes I might try.
Recommended for the serious baker who wants (or needs) to branch out into gluten-free baking.