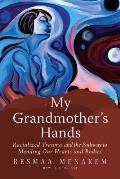 Subtitle: Racialized Trauma and the Pathway to Mending Our Hearts and Bodies
Recommended to me by: Naomi Ardea
Resmaa Menakem is a Black psychotherapist and teacher. He addresses the ways white supremacy, which he calls white body supremacy, is perpetuated through trauma in Black, white, and police bodies. He says we each have to learn to settle our bodies, individually and collectively. He distinguishes the clean pain of addressing and healing trauma from the dirty pain of avoiding it.
I appreciate the insights and settling practices in this book. African-Americans have a history of trauma from slavery, as well as the day-to-day trauma and stress of racism. White people also had a history of trauma before colonizing the Americas. This trauma is passed down the generations through epigenetics and patterns of traumatizing behavior. He brings up the trauma of inflicting or witnessing violence, which afflicts police bodies.
He says white bodies and police bodies reflexively feel threatened by Black bodies. He talks about police saying they "couldn't help it" and "feared for their lives" when talking about shooting and killing unarmed Black people, often in the back. He adds "annihilate" to "fight, flight, or freeze," but never discusses it directly as a trauma or nervous system response.
He asserts that white bodies have generational trauma from historical conflicts in Europe. He does not address the trauma of immigration itself, abandoning all that is known for a wholly unfamiliar place, leaving behind family and social connections. In addition, his emphasis on generational trauma elides individual present-time trauma, letting individuals off the hook.
There are some metaphors and simplifications that don't work for me. Calling the vagus nerve the "soul nerve." Saying it causes or holds emotions that are held in the whole body. Saying that it is responsible for activation responses in the body, when those are caused by the sympathetic nervous system. Saying it makes us human. No, reptiles and mammals have vagus nerves.
Most of the suggested exercises in the book are intended to settle the body, or to mindfully and gently address an activating memory. And then, on page 199 of the hardcover edition, at the beginning of the chapter on Mending the White Heart and Body, a sickening, violent act is described with the specific invitation to put yourself in the scene. It is not even marked as an exercise in the same way as the other exercises, and there is no content warning.
I had a teacher in a massage class once who similarly ended a guided meditation in a shocking way. I think some people imagine that they need to show people what trauma feels like, when many of us have plenty of experience with it already. I am disappointed that the book was published with this mistaken assumption included.
The final chapters contain concrete advice for creating cohesive and resilient social justice groups and events.
Overall, this is an important book with important ideas. It takes a step forward into addressing the trauma of slavery, racism, policing, and white supremacy.