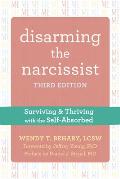 Subtitle: Surviving & Thriving with the Self-Absorbed
Wendy Behary specializes in psychotherapy for narcissists and their struggling family members. She can be firm and kind while not being overwhelmed by negative behaviors.
She suggests using "we" language ("Our common goals are…"), offering the benefit of the doubt ("I know you didn't mean to be hurtful"), and still giving honest feedback ("and it's hurtful when you interrupt and criticize me.") If you want the narcissist to agree to something in a negotiation, preemptively give them credit for the idea.
She suggests: Plant seeds of more kind and considerate behavior by calmly mentioning what you expect many times and hoping it pays off years in the future. Offer a good example by being kind and considerate yourself. In my experience, narcissists aren't paying attention, so the ongoing good example goes unnoticed or is taken for granted.
For the terrible self-doubt that narcissists' oblivious certainty awakens, she suggests understanding your "schemas," patterns and expectations from childhood. It gives a framework to recognize triggers, separate past from present, and offer gentle care for the hurt child within. She recommends understanding the schemas of the narcissist as well.
Wendy Behary collaborates with Jeffrey Young, who created Schema Therapy. His 18 schemas are:
Abandonment/instability
Mistrust/abuse
Emotional deprivation – lack of nurturance, empathy, protection
Defectiveness/shame
Social isolation/alienation
Dependence/incompetence
Vulnerability to harm or illness
Enmeshment/undeveloped self
Failure
Entitlement/grandiosity
Insufficient self-control/self-discipline
Subjugation of needs, emotions
Self-sacrifice
Approval-seeking/recognition-seeking
Negativity/pessimism
Emotional inhibition
Unrelenting standards/hypercriticalness – perfectionism, rules and shoulds, preoccupation with time and efficiency
Punitiveness
"Heal your childhood schemas. Don't get triggered by the narcissist. Be sturdy and calm." Sure, sounds great. Takes a little more than reading one book.
She often mentions seeing a therapist, but does not mention getting bodywork. There is a half-page section titled Somatic Experiencing that mentions body work and describes one Somatic Experiencing technique, without mentioning Peter Levine who originated that work.
She offers a mindfulness technique I liked: Feel your abdomen expand as you breathe in. On the next breath, feel your lungs expand. On the next breath feel the cool incoming air and warm outgoing air at your nostrils. Repeat. She adds paying attention to each of your senses as well.
She states several times during the book that if you are in danger, don't try to reform the narcissist. Make a safety plan and work on getting out. The book is written for those who have decided to stay, at least for the moment, or are in the process of getting a divorce or co-parenting afterward.
She discusses hypersexual and perilous narcissists. The connection between what is usually called malignant narcissism and sexual acting out makes sense. However, the negative stereotypes about sex workers made this section hard to get through.
This is a thorough, knowledgeable book about how to live or work with a mild to moderate narcissist as an adult. It does not really address people who were raised by narcissists and can be emotionally difficult to read. Recommended if you need more tools to handle narcissists, and have already done enough healing to tolerate the slightly breezy tone about the healing process.