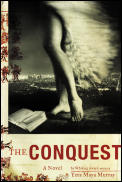 Recommended to me by: Cofax
This layered novel combines plot-driven swashbuckling adventure with a more cerebral battle over the contents and authorship of the historical record.
In the first layer of story, Sara, a proficient rare-book restorer, is absorbed by her work on a sixteenth century manuscript allegedly by a Spanish monk, to the point of ignoring the military man she intends to marry someday. She is convinced the manuscript is historical rather than fictional, and sets out to prove her theory.
The second layer of story is the manuscript itself, describing the adventurous and amorous life of "Helen", an Aztec princess who is captured during the destruction of her city by Spanish explorers.
The double stories explore the consequences of colonialism on both the national and personal fronts, and bring refreshing perspectives on race and homosexuality.
While swashbuckling adventure and romance are not my favorite genres, the deeper layers made this book well worth reading.
A typesetting footnote, in a book about books: Since I don't spend a lot of time looking at a book's cover while I'm reading it, I often find that I don't remember the title or author's name a few months later. This book had the author and title at the bottom of alternating pages throughout. Great idea!