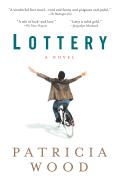 Recommended to me by: Dave Hingsburger's blog
The book begins, "My name is Perry L. Crandall and I am not retarded. Gram always told me the L stood for Lucky." Perry is indeed lucky to be raised by his observant, patient Gram, since the rest of his family is avaricious and self-centered in the extreme.
He is also lucky to be employed at Holsted's Marine Supply (where he does a great job), and to have a best friend Keith who lives on a sailboat in the harbor.
Perry makes the most of the opportunities that luck brings his way, with hard work, integrity, and the careful attention to detail taught by his Gram. He calls himself an auditor, a listener, as he observes the conversations and behaviors of the people around him. His commentary on their quirks is one of the pleasures of the book.
The dramatic plot, as Perry copes with winning $12 million in the lottery and other life events, is a vehicle for a clear moral about not labeling people. Over and over, Perry says he is not retarded, and that it is wrong to label others as well. His successes demonstrate the point.
In a book bringing such awareness to language, it was jarring to see the repeated use of "gyp" to mean "cheated" without comment or apology. The author may need to gain awareness of the discrimination suffered by the Gypsy/Rom peoples.
Overall, a thought-provoking read.