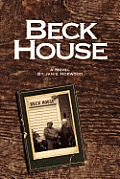 Recommended to me by: a friend in Tifton, GA.
Janie Hopwood creates a colorful panorama of characters and events in this historical novel about her grandmother Rena Beck's boarding house.
When Rena Beck's husband died, leaving her a house but nothing else, she decided to take in boarders in order to provide for herself and her three unmarried daughters. With courage, perseverance, help from family members, and a lot of hard work, she built a successful business which operated for many years.
I recommend this book for historical details, depth of characterization, laugh-out-loud dialogue, and a sure touch with stories about hard times.
The book is self-published through Indigo Publishing, and this article is all I found online. You'll need connections in Tifton to get a copy.
UPDATE: Now available at Powell's Books.