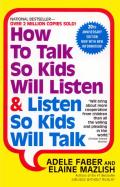 I read the occasional parenting book to find out how I should have been treated as a child, and to learn how to treat myself and others better now.
This book advocates treating children as lovable, capable beings deserving of respect. This shouldn't sound radical, right?
The examples and exercises teach many concrete, immediately applicable skills, including
Respect their feelings
Listen receptively
Jointly look for solutions to recurring issues
Praise descriptively
Expect positive results
The lessons are illustrated with both Do and Don't cartoons of children and parents interacting.
I highly recommend this book to anyone who interacts with children, or who wishes their parents had been more skilled.