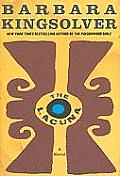 Recommended to me by: Reading Barbara Kingsolver's past books.
"The Lacuna" is both epic and personal, ranging across countries and decades and historic events, and also documenting the details of a child's life.
The point-of-view character, Harrison William Shepherd, is unwanted by his father and only haphazardly cared for by his alcoholic self-centered mother. The book starts on a remote Mexican island in 1929, where young "Will" (his mother uses his middle name) and his mother are trapped with a rich man she hopes will marry her.
Will connects with Leandro, the native cook, who happily teaches him cooking skills in exchange for his help in the kitchen. Starting a matter-of-fact theme through the book, Will has a crush on him, but doesn't reveal it. Leandro is young enough to be called "cook boy", but old enough to be married with children.
Leandro gives Will swim goggles, and he discovers the wonders of the tropical ocean. He also finds a lacuna – a hole – an undersea tunnel that opens into hidden Aztec ruins. During the full moon, the tides help him get through on one breath.
Will starts keeping a journal, filling notebooks with his observations and stories. In another layer of plot, the book itself is supposedly compiled from the notebooks by "VB".
Will and his mother escape from the island to Mexico City via another of his mother's affairs. He spends two years back in a US boarding school, where his father calls him Harry. "Whoever pays the bill names the boy."
Back in Mexico City, Harry joins the household of Diego Rivera and Frida Kahlo, as cook, secretary, driver, and friend. There, they call him yet a third name, Soli, because they can't pronounce Harrison. Lev Trotsky, on the run from Stalin, comes to stay with them.
In the aftermath of Trotsky's assassination, Harry goes back to the US once again, and discovers his father has died, leaving him a car. He simply starts driving, and settles in Asheville, North Carolina, where the Blue Ridge Parkway unceremoniously ended.
He takes up writing at last, successfully publishing two novels set in the Mexican past, but is eventually hounded by the House Un-American Activities Committee and convicted of being a Communist. He escapes back to Mexico.
"VB" is revealed to be his secretary and help-meet in Asheville, Violet Brown.
The book is filled with layers of historical research. I learned about Mexican history, Diego Rivera, Frida Kahlo, Lev Trotsky, the American Depression, and the anticommunist movement.
However, I didn't engage with the characters. The historical figures feel remote, and even Harry refers to himself in third person as the cook, or driver. He doesn't make contact with his own emotions. As I read, I wondered what lesson or point I was supposed to be taking in.