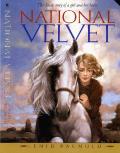 I received this book, originally published in 1935, with a childhood gift of six classic Young Adult novels. I've carried the set from home to home ever since, but hadn't reread any of the books in many years.
Before I send the set off to my niece and nephew, I decided to reread "National Velvet," since the image of Velvet struggling with her unruly stomach had been coming to mind.
I remembered the essence of the book – horse-mad young Velvet rides and wins a steeplechase race – but had forgotten most of the details, including that the story takes place in England.
The writing is gorgeously evocative. Here is the opening paragraph:
Unearthly humps of land curved into the darkening sky like the backs of browsing pigs, like the rumps of elephants. At night when the stars rose over them they looked like a starlit herd of divine pigs. The villagers called them Hullocks.
I paused there in my reading to imagine the Hullocks, reminded of a village I visited in southern England, ensconced in a narrow valley dropping to the sea.
It turns out that Velvet grows up in just such a village with her three older sisters, much younger brother, solid parents, and butcher's assistant Mi Taylor. Their cramped living quarters are attached to her father's slaughterhouse. Mi lives in an outbuilding, and their old horse has a rickety barn.
The girls seem young for their ages by modern standards. At fourteen, Velvet prances about pretending to ride paper horses. Her seventeen year old sister has her first beau. The girls can ride alone for miles among the Hullocks, but their mother tells them what to wear to the village fair. The family shares few words but much love.
I recommend reading this book for the layered details of village life and relationships. I was less interested in the wish-come-true plot, although to be fair I'm considerably older than the target audience of the book. There are sub-themes about news and fame and innocence which provide food for thought.