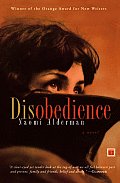 Recommended to me by: Spirituality Bookgroup.
This novel about convention, betrayal, growing up, and finding center is filled with wisdom and grace.
Ronit grew up in a tiny, insular Jewish Orthodox congregation within London. She is the rebellious daughter of their revered Rabbi. Aided by her father's sending her to an American university, she has escaped to a secular life in New York City.
Now, her father has died, and she returns to encounter her cousin Dovid, the Rabbi's heir apparent, and his wife Esti. Esti and Ronit were lovers as teen-agers. Despite her marriage and orthodox beliefs, Esti still carries a flame for Ronit.
The characters and the setting drew me in completely while I was reading. Where I expected the triumph of prejudice and small-minded cruelty, I saw instead surprising compassion and open-hearted possibilities. I celebrated that two couples found ways to re-commit to their marriages.
As I thought about the book afterwards, I started to wonder about the emphasis on marriage as sacred, leaving Ronit as the marriage-disturbing lesbian outsider. While I enjoyed the book, I strongly disagree with that (possibly unintentional) underlying message.
Naomi Alderman's blog: naomialderman.typepad.com.