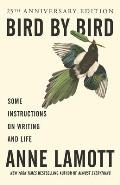 Subtitle: Some Instructions on Writing and Life
Anne Lamott's writing process seems reassuringly similar to my own, and seems to include just as much struggle. She advises us to write everything that comes to mind, and then later refine it into clarity and grace. A lot of the book is devoted to all the ways we get in our own way, and how sorry she is that there isn't a more direct route.
"Writing a first draft is very much like watching a Polaroid develop. You can't – and in fact you're not supposed to – know exactly what the picture is going to look like until it has finished developing." Oh good. Maybe I'm doing it right after all.
She emphasizes both looking inside for our own truths, and observing the world around us to flesh out those truths. She reminds to do both with as much detached compassion as we can scrape together.
On character creation: "My friend Carpenter talks about the unconscious as the cellar where the little boy sits who creates the characters, and he hands them up to you through the cellar door. He might as well be cutting out paper dolls. He's peaceful; he's just playing." … "You may want to come up with an image or a metaphor for this other part of you that is separate from your rational, conscious mind, this other person with whom you can collaborate. This may help you feel less alone." I'll have to try this – I'd love to feel less alone with my book-writing project!
She keeps a 1 inch square picture frame by her desk to remind her to focus in on one viewpoint and one scene at a time. A whole book is made up of paragraphs. Write the paragraphs, the sentences, the words.
Since I'm struggling with organizing my own book, I noticed that her chapter headings are laconic and her transitions brief. Each chapter meanders among writing class anecdotes, writing advice, snippets of poetry, and life anecdotes. I'm sure she spent many hours crafting each chapter to flow so casually and conversationally. At the same time, it's good to notice that it reads just fine as it meanders, and my book might be allowed to meander too.
Somehow, at the end of reading this book, I feel less stuck around organizing my own, and more like I'm moving slowly. And that moving slowly is okay, fortunately, since that's the way it is right now.