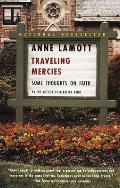 Subtitle: Some thoughts on faith
I stumbled across this book while looking for a quote about forgiveness. I usually find Anne Lamott's books laugh-out-loud funny, reassuringly insightful, or disturbingly insightful. This book, a series of autobiographical essays about faith and religion, left me cold.
Maybe it was the large daily consumption of alcohol and other drugs she reports before she got sober. I can't tell if she's exaggerating or not!
Maybe it was the pretend conversion to Judaism in college, where one of the questions was "Do Jews camp?" The response was, "No, we should be at home where it's comfortable." She has to memorize a recipe for "Candle Salad" which includes an upright banana with a maraschino cherry on top. The vignette screeches right past funny into ugly stereotypes and cultural appropriation.
Maybe it was the later conversion to Christianity, where she describes Jesus following her everywhere like "a little cat running along at my heels." I'm glad she found a spiritual home at St. Andrew Presbyterian Church, and at the same time the description sounds a little too much like spiritual stalking to me.
Reading this book felt like having tea with a distraught, judgmental friend who is telling me every little detail of her troubles, including mean physical descriptions of the people involved, without pausing to ask how I'm doing.