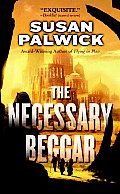 Recommended to me by: Loved Susan Palwick's first book Flying in Place
The Necessary Beggar begins with a flurry of long hyphenated names and fantastical pronouncements. "It's an allegory," I told myself, and kept reading. The story soon descends into grimness at a US internment camp, but does not lose its fairy tale tone.
Even at 6 years old, the central character Zamatryna-Harani Erolorit is super-competent and aware. She continues to excel at everything, including emotional self-control, growing up as an American teen.
Alcoholism, Christianity, family ties, lies, despair, and unlikely salvations weave through the book beneath the fairy tale names and gritty details of daily life. I never felt fully drawn in to either the daily details or the magical salvations.
I'm still puzzling over the allegory. They use prayer rugs in the fairy tale land – does that mean they represent Muslims? The evangelical Christians are not shown in 100% positive light, but they do get a lot of air time, and they do dramatically rescue the family.
The fairy tale extended family stays together no matter what. Impetuous "true love" both imperils and saves them. The very elaborateness of the book's plot contradicts any conclusions about "love conquers all."