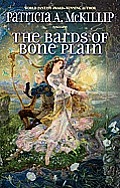 As much as I loved some of McKillip's early books, I think I've aged out of her target audience. This book seemed put together from bits and pieces of past books, with many cookie-cutter characters and an emphasis on the young adults falling in love and pairing off at the end – heterosexually, of course.
The steampunk trams and cars are new. The princess who goes on archaeological digs is new. Harpists, towers, plains, schools, robes, riddles, shape-shifting, and power tied to the land are all familiar themes, and they seem tossed in piecemeal rather than woven together as they were in the Riddle-Master series.
Several beautiful, musically talented women characters are almost indistinguishable, and they're all responsible for cooking on top of their other duties. The queen is solely focused on her archaeologist daughter's "improper" clothing, and an older princess is solely focused on her upcoming wedding.
The book is interesting enough to read to the end, and has some themes around failure and success worth thinking about, but overall I was disappointed.