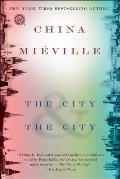 Recommended to me by: jesse-the-k
Starting out, this books feels like a lovely magical little airship, lifting off into possibilities. By the end, the airship is limply deflated on the ground.
Detective novels aren't my favorite genre so I haven't read that many, but I don't think it's usual for clues to be Obviously Laid Out for the reader, but missed entirely by the super-competent detective. I could see plot holes being backfilled in the editing phase, too. Someone carefully Leaves the Keys in the Ignition so our hero can grab the car later.
The book might be an allegory about gender. Or not. I still rolled my eyes at the terrified women rescued by male actors. There is a competent female sidekick detective, and a female professor (with last name Nancy to make sure we notice), but the action centers on men from beginning to end.
I also noticed that the back cover has a large image of the author's face with five o'clock shadow, presumably so we'll know that China is male.
Interesting, but not my genre.