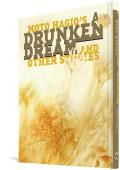 Subtitle: 10 Stories of the Human Heart
Recommended to me by: laughingrat.dreamwidth.org
Moto Hagio is one of the most renowned Japanese artists of shojo manga, high-quality comics for teen girls. She was one of only a few women in the genre in the seventies, and she continues creating art today.
This is a chronological collection spanning 1977-2007. The elegant art conveys emotion and movement with fine pen strokes. With a light touch and few words, the stories address the emotional nuances of abandonment, nonconformity, abortion, conjoined twins, abusive mothers, dead mothers, loving mothers, love through time, gossip, friendship, and marriage.
The words are translated into English, but the pages and the panels run right-to-left, and the sounds emanating from the art are unfamiliar. Instead of "BAM!" and "lub-dub" we see "P-P-PAM" and "TMP!" Each panel invites careful attention, revealing more layers at each reading.
I highly recommend this collection.