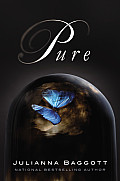 Recommended to me by: s.e. smith at this ain't livin'
This is a layered, well-crafted dystopian science-fiction novel offering both entertainment and examination of modern issues. It has scientific advances and their consequences, predictable heterosexual teen romances, well-developed female characters, adventures, violence, nuances of interaction, and a detailed sense of place.
Where many books have default characters who are mainly young, white, male and able-bodied, this book naturally centers on people of color and people with disabilities. It is the young white male able-bodied character who stands out as different.
The plot takes some of the current disturbing trends in the US just a step further. Government and corporate control. Co-opting feminism into another way to support patriarchy. Destruction of the environment. What smart, powerful narcissists will do to achieve their desires.
I read this book late into the night and picked it up again the next morning. It pulled me through despite the distancing violence, despite editing gaffes like a "meaty man [with] fat hands" turned "rail-thin" two pages later. By the end, though, the characters had developed into people I'm not sure I like, molded in service of the revolution.