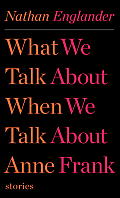 Subtitle: stories
Recommended to me by: KBOO interview with Nathan Englander
These beautifully crafted stories are rich, in the sense that I can't read too many of them at a time. They are heavy with the everyday pain we cause each other, and with the specific pain of Jews and Judaism.
I didn't read them all, but I'm adding the book anyway because I'm still thinking about the characters and stories I did read.
The pioneers (or interlopers) in the West Bank, carving a Jewish city out of Arab land, losing sons to war, to secularism, and to car crashes.
The pioneering woman who used the intricacies of Jewish law and the weight of community collusion to bind a younger woman to her service.
The man who knows little family history because unpleasant stories are papered over with other stories.
The wife who realizes her husband would not hide her from the Nazis if the Holocaust recurred.