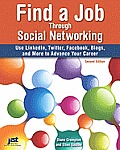 Subtitle: Use Linkedin, Twitter, Facebook, Blogs and More to Advance Your Career
Recommended to me by: Nancy Hyde
A practical guide to networking online. Details about how to use LinkedIn, Facebook, and Twitter, as well as more general networking tips on "building one's brand."
I read this a little at a time over a few months. The first few chapters were too basic for me, since I've had an online presence for 20 years. Then I got stuck on the exercises to develop one's message and tagline, since it didn't feel like the right time to do that work in relation to finding a software job. I skimmed through the rest, which has specific details on different online networks.
Useful tips: there are networks based in Europe, like xing.com. Groups on LinkedIn help raise one's visibility. Facebook is being used more for business networking.
This book has good, basic advice for networking and job hunting. The examples are a little too cheerily positive for my taste, but of course they're going to use successful examples. Recommended if you want to learn more about this topic.