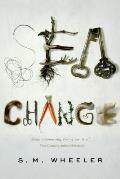 Recommended to me by: s.e. smith at this ain't livin'
This wild fantasy felt true to me, true to inner journeys and struggles and transformations. It has violence in it, but not a lot compared to the modern fashion, and deaths are grieved instead of being passed over without comment. Heroes, villains, and monsters alike are complex, whole people. Friendships are important enough to endure loss and hardship for.
Definitely worth spending an afternoon on the porch in the sun with this book!