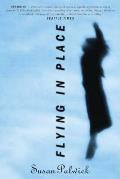 A twelve-year-old girl is being abused by her father, and is ultimately rescued by their next door neighbors. Her older sister had died, and at the end of the book, the neighbor says, "No one can help her. That's what being dead means."
Susan Palwick's blog title is Rickety Contrivances of Doing Good. That does describe this book's satisfying rescue, and at the same time, the book realistically portrays gaslighting and abuse and the necessary mechanisms for survival.
I've had the book long enough that I don't remember how I first came across it. I went back to it looking for that quote. Highly recommended, if you don't mind crying at the end.