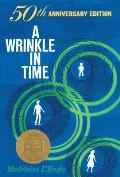 I clearly remember not wanting to turn the light out, the first time I finished reading this book, spooked by mind control. I was around 9 years old, new to having my own room, lined with bookcases of my parents' books.
Rereading it now, it's interesting to see which parts I could practically recite, and which parts I had forgotten, but then remember liking, like Meg being cared for by Aunt Beast. This 50th Anniversary Edition includes a biographical essay about Madeleine L'Engle, written by her granddaughter, Charlotte Jones Voiklis.
There was a discussion about how evil is defined in this book, whether it was removing people's individuality. I think evil is more about control, erasing people's power of choice. Pure evil is pure control, pure selfishness, pure disregard for the will of others.