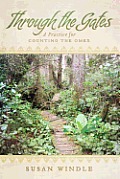 Subtitle: A Practice for Counting the Omer
Recommended to me by: Kol Aleph – Jewish Renewal Omer Offerings Online
I tried Counting the Omer this year, moving through the sephirot of the Kabbalah in all their pairings over 49 days. I quickly found that I needed a woman's voice to guide me through this historically men-only practice. Susan Windle's book gave me warm, personal, inclusive guidance.
The book has a sense of movement through the days as she writes poems and letters to a group of people counting with her. She includes her struggles as well as insights. Her interpretations are clear, and resonate with what I sense in my body. At the end, she says counting the omer is about becoming more ourselves, which also makes sense to me.
Recommended to learn about Kabbalah and Counting the Omer from a woman's perspective.