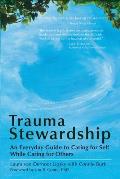 Subtitle: An Everyday Guide to Caring for Self While Caring for Others
This book describes and offers solutions for the secondary trauma of working to address trauma and injustice. Laura van Dernoot Lipsky shares her own experiences as a trauma social worker as well as a wide range of detailed profiles of other helping professionals. The writing is empathic, engaging, and perceptive.
A generous sprinkling of cartoons reinforces her point that humor is a survival technique when working with grim material.
The last section contains a lot of specific, useful suggestions for self-inquiry and self-care for trauma healing professionals. It felt validating to notice that over the years I have built a lot of the suggestions into my life, with healthy food, enough sleep, meditation, lots of exercise, singing, dancing, and participation in community. Also, setting limits around the number of hours I work, and holding fast to the belief that my own healing and helping one client at a time is enough in the face of the world's vast need. Maybe I can trust my body and my instincts to find sustainable habits in this profession.
I did not find the last section's framing of five directions to be helpful or necessary. Since the directions were matched with the five elements in a different way than I'm used to, it was actively distracting. Fortunately, the framing is simply used to group the very practical, solid advice in each section, rather than devolving into new agey spirituality.
From the conclusion:
By now we know that if we want to decrease the suffering in our world, we will need to learn a behavior that is fundamentally different from the ones that have caused such pain and destruction. We must open ourselves to the suffering that comes with knowing that there are species we can't bring back from extinction, children we can't free from their abusive homes, climate changes we can't reverse, and wounded veterans we can't immediately heal. We must also open ourselves to the hope that comes with understanding the one thing we can do. We can always be present for our lives, the lives of all other beings, and the life of the planet. Being present is a radical act. It allows us to soften the impact of trauma, interrupt the forces of oppression, and set the stage for healing and transformation. Best of all, our quality of presence is something we can cultivate, moment by moment. It permits us to greet what arises in our lives with our most enlightened selves, thereby allowing us to have the best chance of repairing the world.
Highly recommended for helping professionals and those considering going into the field. I feel very lucky to be self-employed, after reading about the working conditions in a lot of helping agencies!