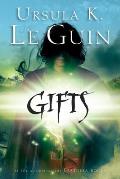 Recommended to me by: Referenced in The Opposite of Rape Culture is Nurturance Culture blog post.
This is not a comfortable book to read. At first it feels irritatingly simplistic and aimed at young readers, but with not enough happening. Then it feels irritatingly complex with not enough answers to hard questions.
What if the best we can do with destructiveness inside us is do nothing, hold still, for a really long time. What if we lose what really matters to us. What if the people around us are doing the best they can with their destructiveness and lack of resources. What if, eventually, there is less destructiveness and we have more options than we thought.
In her essay, Nora Samaran uses "Gifts" as an example of needing to look at something backwards, violence vs. nurturance. "Gifts" doesn't talk directly about nurturance, although the two young people at its center are shown to be attuned to each other, and there is some gruffly attuned parenting as well.
An uneasy, thought-provoking read, with layers.