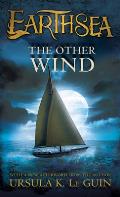 I read this back when it originally came out in 2001. I remembered the overall story arc and the spectacular image of Tehanu at the end, but none of the details at all. It was great to have a visit with Ged and Tenar and Tehanu, but the characters felt oddly distant, not emotionally engaging. It felt like they were moving through their assigned parts in the repair of their world's storyline, but they didn't really have a choice. I did like the careful attention to the disposition of a cat.
Oddly, for a book by Le Guin in the 21st century, the main actors are men. Yes, women are involved and consulted and even central to the storyline, but I was left with the sense that they were pushing their way in from the sidelines, and the men were awkwardly surprised to see them.
Recommended if you want a visit with Earthsea.