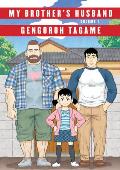 Translated from the Japanese by Anne Ishii
Recommended to me by: Yatima in the 50 books by POC community
Yatima found this graphic novel via its blurb by Alison Bechdel and recommended it enthusiastically. I loved it too.
Mike Flanagan, Canadian white guy, visits his dead husband's brother and niece in Japan. They are both traditionally Japanese. Yaichi the brother has a lot of unexamined homophobia and buried emotions, but invites Mike to stay with them anyway. Kana the niece didn't know that men could marry each other, but responds to Mike warmly.
The book handles relationships and emotions tenderly. Kana is adorable. This book is about the small things in life, meals and sleeping and showers, and the largest things, death and loss and love and relationships and coming out as gay.
The characters are kind to one another. There is something to be said for polite emotional reserve. Some drawings show what Yaichi is yelling inside his head, and the neutral things he says out loud.
As is traditional for Manga, the book reads right to left. I had to be careful to read the panels in the right order on each page. Apparently there are more volumes to come!
Highly recommended.