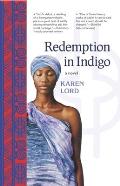 Recommended to me by: reading Karen Lord's The Best of All Possible Worlds
I bought an e-book bundle on the strength of this book being included. I tend to read e-books a little at a time while waiting for appointments, so it took me a long time to get through the book.
This is a retelling of a Senegalese folk tale. For once, the cover is not white-washed. I wish I had been reading a physical book so I would have had the ongoing reminder that of course the characters have brown skin. Even with the clearly Senegalese names, I realized after I finished the book that I had vaguely visualized the characters as white by default. I want to change my internal defaults!
I wasn't sure I would like the book until quite a way into it. At the very beginning, a wife is pursued and appears to be in danger. Then it focuses on ridiculing a man for eating too much, and I'm not interested in watching people be shamed. After a while it focuses on a strong woman (the wife who is well able to take care of herself) and the story hit its stride for me. I loved the epilogue.
Recommended as a thought-provoking story about different angles on duty, where you get to know and appreciate the characters.