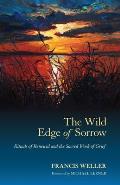 Subtitle: Rituals of Renewal and the Sacred Work of Grief
Recommended to me by: Kristin
This is a wise, kind, perceptive, affirming, healing book about grief. It warmly includes childhood triggering, shame, and shared grief for the planet among the burdens that we all carry. It emphasizes the importance of both a village to share our grief, and the capacity to turn toward our grief with compassion when we are alone.
"Turning toward the suffering and into the marrow of our grief with the attention and attunement of a caring adult helps to dilute and transmute the trauma and shame into the kind of sensitivity that can inform our compassion for others."
The writing is lyrical, poetic, and includes well-chosen poems sprinkled through the book.
Francis Weller recommends group rituals, or perhaps solitary ones, as an anodyne for grief. One simple one is to put a small stone for each grief into a large bowl of water. When everyone is done, the water is given to a plant for nourishment, and the stones are returned to a river or lake or ocean, or buried in the earth, to be washed clean again.
A central part of grief work is to have a daily practice in meditation or something similar that allows us to hold space with ourselves rather than becoming overwhelmed.
Highly recommended.