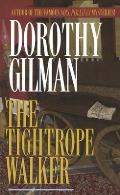 Recommended to me by: Rachel Manija
A well-plotted murder mystery story plus a quickly developing romance plus a young woman main character who is healing from childhood trauma. It's not nearly as grim as all that makes it sound. I like the way the main character, Amelia Jones, observes the world and herself from slightly outside it all, and moves from conversation to conversation as she unravels the mystery.
Highly recommended as an entertaining read with an underlying understanding of the effects of neglect on children.