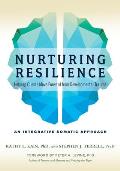 Subtitle: Helping Clients Move Forward from Developmental Trauma, An Integrative Somatic Approach
Recommended to me by: Taking a class from Kathy Kain
I took a 3 day class from Kathy Kain last year and learned techniques that I use every day in my practice, so I was excited about this book. It turned out to be dry to read and only talked about a couple of techniques at the end, which I had already learned in the class. On the positive side, the extensive client examples include gay parents and genderqueer clients.
The first part introduces attachment, polyvagal theory, and neurological development. Interoception is perception of our internal state. Exteroception is perception of the external environment through vision, hearing, touch, etc. Neuroception is the perception of safety and threat. Interactions with parents and other caregivers help an infant make sense of incoming stimuli and assess safety vs. threat. Without playful and caring interactions, the infant develops a strong sense of what is a threat, but does not develop a sense of what feels safe.
They discuss the ACE study and the health effects of early trauma. The Window of Tolerance is the nervous system's comfortable, functional, social state. Threats result in hyperarousal (fight or flight) and hypoarousal (freeze, immobility). Someone with a dysregulated nervous system has a very small window of tolerance. They may have a faux window of tolerance, where they manage to function despite being under physiological stress.
The second half of the book more directly discusses clinician interventions for clients with developmental trauma. The emphasis is on teaching the nervous system how to stay more regulated, and to offer co-regulation, where the client's nervous system is steadied by the clinician's regulation. The authors emphasize that developmental trauma is largely non-verbal, patterned in the body, so interventions need to address the body directly.
Interventions they discuss: gentle touch on the kidney area of the lower back, and helping the client practice noticing same/different around their triggers.
Recommended if you want a lot of information about developmental trauma, and don't mind a somewhat uneven presentation.