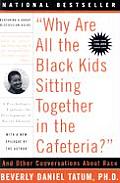 Subtitle: And Other Conversations About Race
Recommended to me by: Kate Nepveu's article How to Discuss Race and Racism Without Acting Like a Complete Jerk
Dr. Tatum, a research psychologist and current President of Spellman College, answers the title question compassionately and thoroughly, creating a framework to think and talk constructively about race. She alternates between explanations of academic psychology in clear layperson's language, engaging personal anecdotes, and stories from her research and teaching experience.
The Black kids are sitting together because being singled out as the representative of one's race is exhausting. Because they share an understanding of the frequent subtle racist behavior around them. Because they are supporting one another as they develop their internal racial identities.
Psychologist William Cross' theory of racial identity development:
pre-encounter – racial identity unexamined and stereotypes absorbed unquestioned
encounter – events force examination of the personal impact of racism
immersion/emersion – focus on developing racial identity, socializing with people of the same race
internalization – sense of security about one's racial identity
internalization/commitment -taking action in the world to interrupt racism
Dr. Tatum explains:
Sometimes I find it helpful to compare this process to learning another language. The best way to learn a second language is to travel to a place where it is spoken and experience complete immersion. Once you have achieved the level of proficiency you need, you can leave. If you worked hard to become conversant, you will of course take pride in your accomplishment and will not want to spend time with people who disparage your commitment to this endeavor.
Development of a racial identity for Whites, White guilt, and the role of White anti-racist allies are also addressed, as well as racial identiy development for Latinos, biracial people, and others.
Highly recommended for anyone who is frustrated and confused about racism and wants clear, positive, hopeful information.