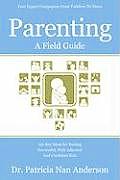 Subtitle: 150 Key Ideas for Raising Successful, Well-Adjusted And Confident Kids
Recommended to me by: Patricia Anderson's "I Need a Nudge" author coaching
I have benefited from Patricia Anderson's you-can-do-it-and-here's-how author coaching for a year now. I've been curious about her own book, which she got written and out to readers in 5 months.
The book starts out asking readers to articulate their own values around parenting, and reminds us to keep our eyes on the eventual goal: raising children who are "healthy, successful, likeable, loveable, well-adjusted, and capable." Parts of the book continue this values-centered theme, and parts are more clearly based on the author's individual values.
Each topic is addressed briefly in one or two pages, with a related exercise or additional information on the facing page. It's meant to be read in short bursts, between child-related interruptions. A wide variety of topics are covered, from brain development to sex ed to siblings of a special-needs child.
I would have liked to see more emphasis on diversity. There was one two-page section on gay children, one two-page section on diversity and inclusiveness, and no mention of trans kids.
Overall, the book raises a lot of issues to consider around parenting, and reassures parents that they are not alone in tackling those issues.