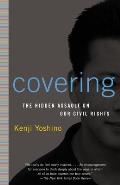 Recommended to me by: Sanguinity in the 50books_poc community
After several books put aside because I just couldn't get through them, this book is a delight – both lyrical and informative, both personally detailed and globally applicable.
Kenji Yoshino is a gay Japanese-American man, currently working as a professor of law at Yale Law School. In the first third of the book, he describes his journey from covering his gayness as a youth to defending the civil rights of gay people in court as an out gay lawyer. He also describes his parents' efforts to make him "100% American in America, and 100% Japanese in Japan."
The rest of the book formally addresses covering and civil rights.  Covering is concealing evidence of a minority trait by adopting majority appearance, affiliation, activism, and/or association. For example, gay people cover by not holding hands in public, and not displaying photos of a partner at work.
Majority culture continues to discriminate against minorities by demanding covering, even after civil rights have been successfully won. For example, gay parents can lose custody of their children in many states for "flaunting" their gayness by having a same-sex partner, where a heterosexual parent would not be penalized for having a new partner.
The book ends with a call for all of us to take civil rights beyond the courts by celebrating diversity in others, and taking the risk to cover less ourselves.