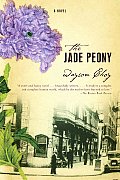 Recommended to me by: atdelphi
This novel is an intricate work of art, assembled from one precise detail after another, illuminating the lives of a Chinese family of immigrants to Vancouver, B.C. in the 1930s and early 40s.
The story is told in three sections, from the viewpoints of three children. First the girl, then the second-oldest adopted boy, then the youngest boy. Entwined with their intensely pursued hobbies and heartbreaking losses, we learn about the adults around them, especially the women.
Matter-of-factly, Choy focuses his story on those with less privilege instead of those with more. Poor Chinese immigrants rather than established Canadian citizens. Children rather than adults, but not the special First Son. Women of different ages. A disabled, disfigured man.
The characters are vulnerable, grumpy, and real, bearing pain as best they can, sharing what they have to give each other joy. While reading, I felt as if I sat down to dinner with them, hearing about their lives close up.
Read this book!