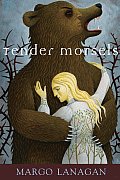 Recommended to me by: Meloukhia
This is a fairy tale, but no child's story. It starts with incest and pregnancy and abortion, and continues with gang rape. Then Liga is magically placed in a world that matches her heart's desire, peaceful and safe.
While examining the consequences of assault and the consequences of avoiding trauma, the story sings along, full of prickly, kind characters and vivid details.
Recommended, for a true look at life in fairy tale guise.
An interview with Margo Lanagan.
Jody Hewgill (the cover artist)'s portfolio.