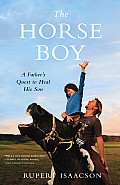 Subtitle: A Father's Quest to Heal His Son
Recommended to me by: Kristin Neff mentions her husband's book about their journey to Mongolia in her book Self-Compassion.
Rupert Isaacson writes about how his intuition and determination (and privilege) bring him to Mongolia where horseback riding and shamans help his autistic son Rowan.
He describes both people and places by their degree of physical beauty. He does not acknowledge the privilege that makes his journey possible. His story about meeting his wife Kristin says a lot about how he relates to the world.
[T]he moment I saw her, stretched out in a beach chair by the pool of the Southern Star Hotel, all long-legged, tan, and languid, […] a voice in my head, accompanied by an almost physical pull of intuition under my diaphragm, said, clear as day, That's your wife. [… She responded,] "I'm not available."
Which of course for me was like a red rag to a bull.
I learned a lot about autism, horses, shamanism, and Mongolia. I'm glad their adventure went well and brought improvement for Rowan. I'm amazed and a little jealous of how Rupert's intuition panned out and he got everything he wanted, including financial success.
Of course, it's unlikely that a book about how someone followed their intuition and was led completely astray would see print.