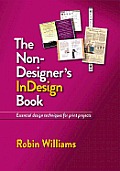 Subtitle: Essential design techniques for print projects
Recommended to me by: Finding it at the library
I'm formatting my book with Adobe InDesign. While it does work to do a web search to find out how to do things like add more pages to the book, or move a title farther down the page, I decided I wanted more of an overview of the whole program and its features.
A friend suggested checking a book out of the library. This was perfect, because I could check out several books and see which one I liked, and since I have an older version of the program, older books were just right.
This book won because it is inviting, clear, direct, and brief. The design examples are varied and interesting (not all for sports and bars). Some of the examples are even from "Mothering Magazine"! While Robin doesn't address book projects, the aesthetics and attention to detail in her examples fit in with how I work. Not only am I happy to support a woman author of a technical book, I feel more at home reading her book.
Highly recommended if you need to wrestle with InDesign CS5. I got her Photoshop book too, and I'm looking forward to reading that next, to work on the book cover and interior illustrations.