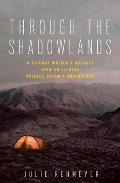 Subtitle: A Science Writer's Odyssey into an Illness Science Doesn't Understand
Julie Rehmeyer chronicles her descent into Chronic Fatigue Syndrome, and her ultimate ascent into carefully managed recovery. She includes investigative journalism into why Chronic Fatigue and mold sensitivity receive so little credibility and research funding.
She chronicles her relationships as well. She was incredibly fortunate to receive assistance when she needed it, and also incredibly determined to keep surviving and moving forward on her own.
Her mother brought her up as a Christian Scientist, and she herself is a science writer and mathematician. She weaves together her pursuit of medical treatment for her illness along with looking inside for the meaning of the illness and the lessons to be learned. She learns to be in the moment with suffering, and realizes that not all suffering can be solved by trying harder.
With the help of people writing about their experiences on Internet forums, she discovers that extreme mold avoidance and later, careful gradual re-exposure improve her health to a manageable level. She notes that this was her personal experience, and each Chronic Fatigue sufferer responds differently to different possible causes and treatments.
Beautifully written, even the excruciating parts. Highly recommended.