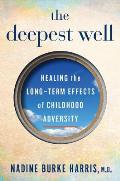 Subtitle: Healing the Long-Term Effects of Childhood Adversity
Recommended to me by: listening to Nadine Burke Harris's TED talk
This is a skillful blend of memoir and scientific information about the effects of trauma, presented for the layperson. Nadine Burke Harris shares how as a newly licensed doctor she founded a pediatric clinic in Bayview, the poorest section of San Francisco with the most at-risk patients, and how that clinic came to focus on trauma as the underlying cause of a lot of medical issues, especially for children. Later she founded the Center for Youth Wellness, also in San Francisco.
She does not dwell on the effects of being a Black woman, but she does not skip over them either. She notes the benefits of networking with other women and offering each other support. While marginalization and racism contribute to people's load of trauma, trauma is not only a "poor, Black issue." Privilege does not exempt people from trauma or its long-term effects.
There is a strong correlation between Adverse Childhood Experiences (ACEs) and health issues caused by the body's ongoing stress response. The stress response can be buffered by strong relationships with caring adults.
Nadine Burke Harris developed a screening tool that asks a parent about the number of a child's ACEs, but does not ask them to disclose the stories involved. She advocates for this screening tool to be used everywhere, just as infants are now universally screened for hypothyroid and jaundice.
The treatments for a body dysregulated by trauma are sleep, mental health, healthy relationships, exercise, nutrition, and meditation. Schools that help children regulate their nervous systems rather than punishing them for "acting out" enjoy both a more peaceful atmosphere and higher success rates by every measure.
(While screening is catching on in medical offices, I hear from nurses that treatment is catching on less quickly, leaving them in the frustrating position of knowing that people's issues are caused by trauma, but not having the time and resources to help them.)
Highly recommended both for the information about the effects on trauma, and the memoir of a groundbreaking scientist and doctor who is radically improving how we care for both children and adults affected by trauma.