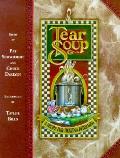 Subtitle: A Recipe for Healing After Loss
Grandy, a "somewhat wise" grandmother with a long silver braid, has suffered a big loss. In gorgeous detailed illustrations we see her making tear soup with her tears, memories, and time. She grieves alone and with friends. She gives it all the time it needs, far longer than some people think it should take. Eventually she's ready to put her soup in the freezer and only eat it occasionally.
A loving, compassionate look at grieving big losses in children's book format, but appropriate for any age. Highly recommended.
Grief Watch website has more books, and a free download of the "cooking tips" and "recipe" from the back of this book.