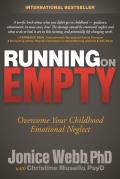 Subtitle: Overcome Your Childhood Emotional Neglect
Emotional neglect is the whitespace between parental actions, what didn't happen rather than what did happen. Lack of emotional connection, not paying attention, and not responding competently to the child's emotional needs. The parent sees the child as an extension of themselves, a possession, or a burden, rather than a separate person.
The book describes twelve kinds of emotionally neglectful parents, with brief vignettes. The twelfth kind is the most common, "Well Meaning But Emotionally Neglected Themselves" parents.
Some effects of emotional neglect:
Some effects of emotional neglect are

Feelings of Emptiness
Counter-dependence (not depending on anyone)
Unrealistic Self-Appraisal (not being mirrored by parents, lack of self-understanding)
No Compassion for Self, Plenty for Others
Guilt and Shame; What is Wrong with Me?
Self-Directed Anger, Self-Blame
The Fatal Flaw (If People Really Know Me They Won't Like Me)
Difficulty Nurturing Self and Others
Poor Self-Discipline
Alexithymia: Poor Awareness and Understanding of Emotions
There is also a brief, respectful chapter on suicidal feelings.
The second part of the book is "Filling the Tank." It starts by talking about how change happens, gradually, with some setbacks, requiring ongoing persistence to move through avoidance and discomfort.
The sections on how to fill in missing parenting by acquiring new habits are trying to be helpful, but they feel glib and superficial. "Keep practicing these skills you never learned, you'll get there eventually!" Topics include boundaries, emotional fluency, self-care, diet and exercise, and kind self-talk.
In the brief section on relationships, there is a useful tip on horizontal and vertical questioning. Horizontal questions ask for information and can be answered quickly. Vertical questions ask the person to turn inward to find and share understanding.
The chapter on parenting encourages stepping away from guilt and filling up yourself to be able to fill up your child.
The final chapter, for therapists, felt more helpful. Here is how to really help someone who was emotionally neglected, by providing what they missed out on, rather than the previous chapters that seem to say, "Figure this out for yourself."
It is important to name and recognize Emotional Neglect in ourselves and others. The ideas in this book are groundbreaking and crucial. The self-help format does not quite work, but it is still worth reading. It reminds me of The Emotionally Absent Mother by Jasmin Lee Cori, which covers related ground with more focus on understanding what was missing and less focus on self-help.