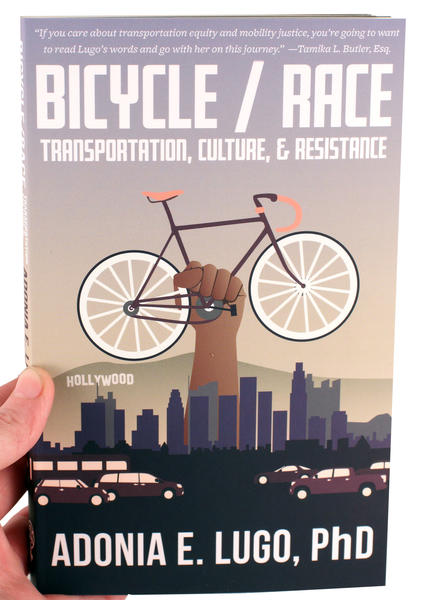 Subtitle: Transportation, Culture, & Resistance
Recommended to me by: Elly Blue
Adonia Lugo gives us both a warm memoir and a carefully researched overview of her anthropological study of racism in bicycling activism. She shares her background as a half-Mexican, half-white girl growing up in San Juan Capistrano in Southern California, her joyful involvement with bicycling as transportation while studying in Portland, and her direct experiences of racism and resistance as she pursued her PhD research. As part of it, she helped create the first cicLAvia in LA, where streets are closed to cars and opened to bicyclists and pedestrians.
Race and mobility are intertwined because we designed segregation into our built environments and how we police them, and racial equity in the distribution of public money isn't a metaphor or a goal you opt into; it's a legal obligation, thanks to the civil rights movement. I wasn't pointing to the culture of white supremacy embedded in bike advocacy, policy, and planning because I wanted to cause trouble; it was about fulfilling the promise of our shared democracy.
She writes about the successive waves of colonization and conquest that shaped Southern California, the role of racism in people's preference for private cars, selective police enforcement against people of color, and the reinforcement of white supremacy in the networks of people who set public policy. She writes about how her family's loving support gave her the confidence to try to create change, and how she realized that entrenched systems were resisting her efforts.
Highly recommended! I read it a chapter or two at a time, with pauses to digest the information about the racist underpinnings of US culture and transportation.