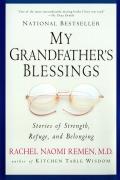 Subtitle: Stories of Strength, Refuge, and Belonging
Recommended to me by: Robyn Posin
Rachel Naomi Remen writes about wisdom, meaning, connection, grief, compassion, and how to live with authenticity in a series of vignettes from her life and the lives of her patients. She works with people dying of cancer, and their grieving survivors. Some stories are about her childhood conversations with her Orthodox Rabbi grandfather, a wise and gentle man. Some are about her own struggle with Crohn's disease. She was a pioneer in medical school and in practice as a woman and someone living with chronic illness. She was a pioneer again talking about the mind/body connection and the need for healing rather than (or in addition to) curing people.
Many of the stories touched something in me and made me cry, perhaps out of longing for the kinds of connection and meaning she describes. I like that she says service is between equals, people recognizing and supporting the wholeness in each other, as opposed to helping or fixing, which requires one person to be less than another.
Recommended as a dose of wisdom and hope.